For more information please contact Graeme Brooker
Eastbrook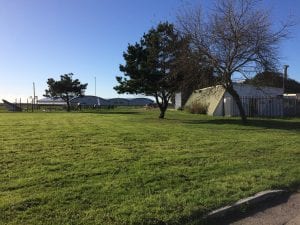 Fishersgate Recreation Ground
Known locally as the 'Shark Park' this is one of the sites that will be used by our new Friday Green Gym starting in November 2018 taking place every 2nd and 4th Friday on the month from 10 a.m. and 1 p.m. Joining a Green Gym is a fantastic way of getting outdoors, meeting new people, helping to improve your local area and improving your fitness as you do it.
Stepping Stones Family Centre
We work with The Family and Children's Centre to deliver parent and child gardening sessions every Thursday between 2 p.m. and 3 p.m. These are short fun sessions and the participants should dress to get muddy.
Land Adjacent to Manor Hall Road Allotments
We are hoping to start a new project on this site before the end of 2018 – we are planning to manage the site for wildlife and use the site for Forest School Activities with local groups. This will be another site that the new Friday Green Gym will be involved in maintaining.
Downsway
This narrow tree belt at the southern edge of the South Downs National Park has suffered from fly tipping and a lack of management, there is a Green Gym that meets every Tuesday from 10 a.m. to 1 p.m. and carries out practical tasks to help manage the site.
Northbrook
Longcroft Park
This park is adjacent to Whitebeam Woods in West Durrington and comprises of grassland including a football pitch, tree belts, mature trees and children's play area. We are intending to launch two new projects during the winter 2018/19 which will be a new community garden area and planting a new community orchard (The trees being selected are all traditional Sussex varieties), the plan is to create a new 'Friends of Longcroft Park Group' who will ultimately be responsible for managing the new projects.
Whitebeam Woods
This 4-acre area of re-planted ancient woodland in West Durrington has been managed by 'Friends of Whitebeam Woods' and we are now supporting them through Green Gym Activities every Wednesday between 10 a.m. and 1 p.m. There are a range of woodland habitats and a small woodland pond on site.
Northbrook Pond
This is a remnant of the Northbrook Farm pond adjacent to David Lloyd Gym in West Durrington and was originally set within orchards of which just one large old pear tree remains. The pond and surrounding area are maintained by local conservation groups and when required the Green Gym will carry out activities on a Wednesday between 10 a.m. and 1 p.m.